Black River Shooting Supplies Carries Nearly Everything You Need
When it comes to selecting the right ammunition, it can quickly become overwhelming when seeing all of the different factors and variables that go in to each choice. Likewise for any accessories that are designed to compliment and optimize a system. Factors such as projectile type, velocity, weight and load types all come into play, and especially if you're a new shooter or firearm owner these details can be intimidating.
That's where we come in. Our staff here at Black River Shooting Supplies is out to provide anyone in and around Poplar Bluff with the knowledge and confidence of getting the right gear for their unique application the first time.
Come see us today if you have any questions about your system and let us help you select the ideal Gun Ammo and Accessories you may not even know you needed. Or just fill out the short form below to learn more!
Get The Right Ammo and Accessories For Your Application
Maybe you're a hunter looking for an ideal hollow point or soft point projectile for the upcoming season. Or maybe you're just looking for efficient but inexpensive loads for target practice and general training (full metal jacket projectiles). Regardless of what your situation calls for, we're here to provide assistance and support that covers your needs. We carry a wide range of different calibers and bullet types in store, but if you can't find what you're looking for in store just let us know and we can even help see about getting new and uncommon products brought in just for our customers.
We also carry one of the best quality selections of firearms accessories that Poplar Bluff has to offer. Whether you're looking for a new sight for your rifle, a holster for your handgun, or a concealed carry purse we can help. Whatever you're looking for to help optimize the performance of your system, we probably have it. And if we don't have it, we can probably help you acquire it. And remember -- we even have a gunsmith on site to help put it all together!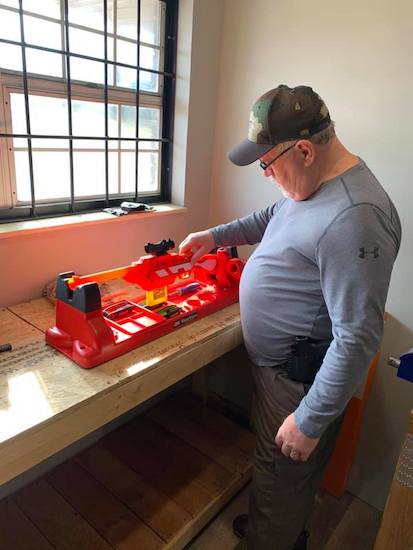 - We work on real ones too ;)
Our selection of Ammo and Accessories at Black River Shooting Supplies includes:
Slings
Holsters
Cleaning Equipment

Magazines
Clothing
And More!
We're Out To Provide Poplar Bluff With The Best Service and Selection Possible
If you're a seasoned veteran looking for a new setup, or even a brand new gun owner looking to learn and train safely, Black River Shooting Supplies can provide you with the Ammo and Accessories you need to do things the right way for your application. Hunting, self defense, competitions and target practice all call for different types of ideal setups. We're here to clear the confusion and serve as our community's one-stop-shop for their firearm needs!
Stop by today to get fitted with the best equipment or fill out the short form below to learn more today!